The Bucker 131 Jungmann
The Bucker 131 "Jungmann" was first flown in 1934. It was Germany's premier pilot trainer at the time. The 131 possesses excellent handling and aerobatic characteristics. After the war, Germany sold the production license to other countries, most notably Spain and Switzerland. This opened up the production of Jungmanns and the single seat fully aerobatic version, the "Jungmeister" ( Younger Brother ) into the 1970's.

Buckers are still used today for aerobatics and recreation flying and are coveted by aviation collectors all over the world.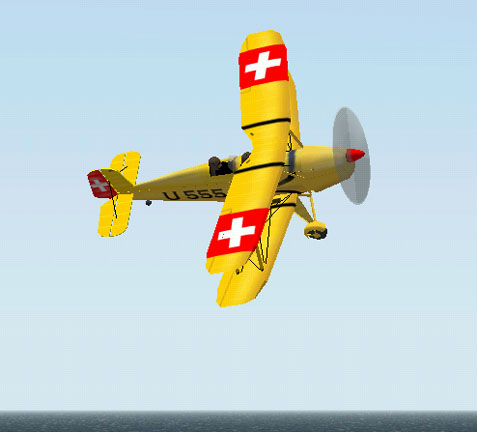 FS 2000 Bucker 131 Jungmann
I designed the Bucker 131 Jungmann using FSDS Pro. Markings are based on information and photos found on the web about this particular airplane with swiss markings. The model features spinning propeller, fully animated ailerons, elevator and rudder. My daughter Nicole is the fortunate aerobatic trainee in the front seat!!.