The Bucker 133 Jungmeister
was the single seat version of the highly succesful 131 Jungmann. The Jungmeister ( Younger Brother) first flew in 1936. It was powered by a 7 cylinder radial Hirth 160 HP engine. This gave the 133 a terrific boost in horsepower and allowed it to perform advanced aerobatic maneuvers including the introduction of newer vertical ones that hadn't been possible with previous aircraft of the times.

After the WW II Jungmeisters were built also in Spain and Switzerland. A Jungmeister was the mount of the famous aerobatic world champion Jose Luis Aresti of Spain, world known for devising the "ARESTI" system of aerobatic notation which is still widely used as a standard system in airshows and world competition.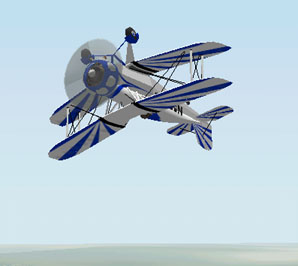 FS2000 Bucker 133 "Jungmeister"
Original model and panel. Includes spinning prop, animated ailerons, elevator and rudder. Designed with FSDS Pro.